When I was a child, I loved to go to the local amusement park. There, they had a building called the "fun house." Inside, you were confronted with unusual or unexpected things at every turn. The floors moved, wavy mirrors distorted your reflection, rotating tunnels made you fall down, thrilling slides were filled with bumps and turns, and rooms seemed to change size. One of the most popular features was simply called "the wheel." It was a large round spinning disc laying flat on the floor. When it was stopped, dozens of people would jump on and crowd in as close to the center as possible. Then, it would start spinning, very slowly at first, but then faster and faster. As the velocity increased, the centrifugal force began to pull us all toward the edges. At a certain speed, people on the outside edges of the wheel could no longer hang on and would slide off the disc out of control and on to the floor. But, the people closer to the middle were still on board. Sometimes, people would grab on to their friends to keep from being spun off the disc, only to drag their friends off with them. The speed kept growing and more and more people flew off the spinning wheel, ultimately leaving only the few in the very center. The idea was to see who could stay on the wheel the longest.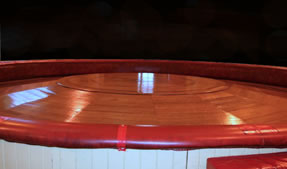 The fun house was closed many years ago and I think I know why. It is no longer a fantasy. For many of us, it is our reality. Our world has become so chaotic, so unexpected, so unreliable, and so busy that we often feel that we are on that spinning wheel which keeps going faster and faster, trying to spin us off!! Especially during the holidays, we are so surrounded by activities and expectations that we seldom take time to consider what we are celebrating in the first place.
During this holiday season, let us momentarily step off the spinning wheel of life and make time to remember the meaning of the holidays. Whether you are a religious person or not, the holiday season can be a time of renewal and peace: a time for random acts of kindness, a time to show love to others, bury grudges, connect with family, give joy, and feel hope.
Success Tip: In the midst of our hectic lives and schedules, set aside time for the important things of life. It will make your days sweeter, your family happier, and your work time much more effective.