Description
It's one thing to get motivated occasionally, but quite another to STAY motivated!
How to Stay Motivated is Zig Ziglar's flagship program, and one of the best total motivational programs you can buy! Great for people of all ages! This is really THREE incredible audio programs in one, focusing on: Success, Attitude, and Goals. A complete package for anyone who wants the most out of life. Zig Ziglar reveals the secrets to cultivating and maintaining a powerful drive in yourself so you can create the brightest possible future, overcome adversity, push yourself beyond your comfort zone, become a living magnet, become more creative, inspired, and full of hope.
Includes ALL of the following: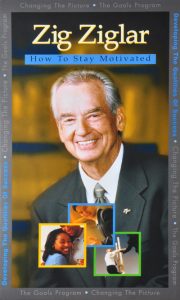 Developing the Qualities of Success
In Volume I of the How to Stay Motivated series, Zig helps you develop the qualities — the skills and attitudes — that bring success. You were designed for accomplishment; you were engineered for success; you were endowed with the seeds of greatness. Now you can realize your true potential. Plan, prepare, and expect to win. Motivation is the key to accomplishment. Learn how to maintain a winning attitude.
In Volume II of the How to Stay Motivated series, Zig deals with the picture of yourself that we often call self-image and attitude. Discover eight powerful steps to building a good self-image; identify and correct self-image problems by confronting them; become a responder rather than a reactor; and learn life-changing attitudes to building good relationships. Simply change your picture and you change every facet of your life.
In Volume III of the How to Stay Motivated series, Zig focuses on goals. 97% of people do not have a goals program–fear, poor self-image, never being sold, and lack of know-how stand between most people and their goals. With characteristic stories, wit and enthusiasm, Zig sets the stage for successful goal-setting. He gives you concrete methodology to set any goal–and achieve it! You CAN overcome adversity and live your dreams.
Get on top of your life with Zig Ziglar's goal setting and tracking system — the Performance Planner. This simple but comprehensive and usable system provides you with a complete planning package and allows you the flexibility to adapt and personalize the entire system to meet your specific personal, family and business needs. Focus your time and energy on top priorities, which lead to the realization of your business and personal goals. Successful achievers don't manage time — they carefully invest it.  (Book not included in MP3 version.)