Something happened this week that taught me a life lesson. I was working with a web designer to update a webpage that handles a complicated online process. We made some minor changes to the code and suddenly the whole process stopped working.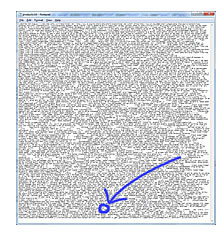 We quickly scanned over the changes that we had made and found that one extra character, a letter "p", had inadvertently been added to the code. We removed it and, presto, everything worked perfectly again.
Imagine that! This page has 420 lines of code, with as many as 10,000 characters, and all of it was rendered useless by one character out of place–just one little thing.
It made me wonder. What is the one little thing that is holding me back? Is there something small I can change right now–perhaps breaking a habit or adding some discipline–that would make everything else in my life start working better? I think there is.
I'll bet you, too, can think of one little thing that you could do to improve yourself. What if that one little thing made the difference between continuing to achieve at current levels and outstanding success? What if that one little thing is holding you back from the life you've only dreamed about. Wouldn't you take action to change it?
Success Tip: You never know when changing one little thing can make a major difference in your life. Identify one little thing that you can do to improve right now. Then do it.