I just put our favorite house plant in the garage.  In the house, it sits in a prominent place near a bright window.  In the garage, the temperature dips near freezing and it's always dark.  Each winter, I keep the plant in the garage for 6-8 weeks before bringing it back into the house.
Why do I do this?  I received this plant as a gift from my Mother.  It looks like long cactus strands that drape over the side of the pot looking a little like hair in dreadlocks.  When Mom gave me the plant, it had been in her garage.  She told me that she always put the plant in the garage for a few weeks in the coldest part of winter.  I thought that was a little strange, but I immediately fell in love with the uniqueness of the plant and put it in a prominent place.  Over the next month or so, Mom periodically asked, "how is the plant doing?"
"Fine, I guess."  After all, how do you know if a cactus is happy?
Then, one day, there was a little pink knob at the end of one of the cactus strands.  And then another, and another.  Pretty soon, there was a bright bud at the end of each strand.  Finally, the buds bloomed and the entire plant was covered with the most beautiful flowers.  It was a spectacular display that lasted for several weeks!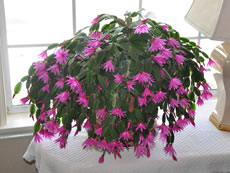 The following year, I just couldn't bear to put my favorite plant in the garage.  So I just kept it in it's normal warm, sunny spot.  When it was time to bloom, I anxiously awaited the flowers.  But, they didn't come.  Eventually, we got three intermittent flowers.  That's it.  I learned that if I don't expose the plant to the cold and dark of the garage for an extended period, it doesn't bloom.
You and I are the same.  Sometimes life hands us difficult challenges.  There are times when we are figuratively in a cold, dark, lonely place–like my garage.  As unpleasant as these times are, they are necessary for us to learn and grow and bloom into the person we are meant to become.  When we are in the garage, it's tempting to look at others who are in the sunshine of their lives and feel that life is harsh and unfair.  The truth is, everyone has their times in the garage as well as their moments to bloom in the sunshine.  The important thing is to keep a proper perspective. If we approach it with the right attitude, our time in the garage–those periods of adversity, disappointment, and heartache–can help us become the kind of person who produces spectacular blooms.
Success Tip: Instead of becoming bitter when life puts you in the garage, you might ask yourself, "what should I be learning while I'm in the garage that can help me produce the brightest blooms later?"