High turnover is a head-breaking problem for companies. For many companies, new-hires leave before their probationary period is ended. If your company has a high turnover rate than your competitor, you will lose your good employees to your competitors. Also, your business will also suffer from high costs of attracting, recruiting and training the new staff. So, new hire training is the first important thing to reduce the rate of turnover and enhance the acculturation and productivity of new employees in companies.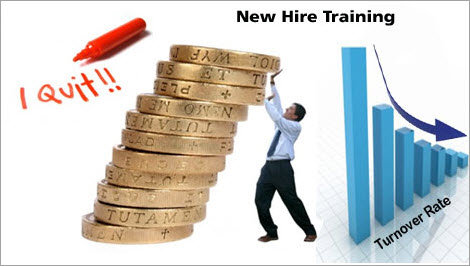 Benefits of new hire training
New hires walk in with a fresh view of company and an intrinsic motivation to contribute to their job positions immediately. They start their first day with both excitement and worry. They want to excel in their new jobs, but they do not know where to start.
So, new hire training is necessary. The more background knowledge new hires have about how one workgroup interrelates with ancillary departments, the more new hires will understand his or her impact on the company. Benefits of new hire training:
Reduce new-hires' fears.
Increase the understanding of company, such as culture, company structure, etc.
Increase new hires productivity.
Reduce new employee turnover.
Training Content
Training new hires isn't easy, yet it should not be left to chance. You should set down a complete training program for new hire training, including training content, training schedule, training effects assessment, etc. Generally, your new hire training program should provide the following contents:
Company information introduction: culture, structure, product and service information, etc.
Company rules and regulations, policies and procedures.
Position description and requirements.
Office applications operation training.
Besides these, provide company manual to new hires, it can be extra gifts for them to learn more about your company.
Evaluate new-hire training effectiveness
Evaluating new-hire training effectiveness is important to ensure improvements for the new-hire training courses and to monitor training standards in your company. Methods of assessment are different for various training contents.
For evaluating the training effects of your company rules and regulations, policies and procedures, computer-based testing is the first choice for assessment in terms of money-saving and time-saving. No papers printed, no pens needed, and no hand-marking work – all the quiz results are graded automatically after taking the test. This feedback is critical to help trainers to identify their weaknesses and reinforce the training to new hires.
To evaluate the effectiveness of job training, you can evaluate in the process by monitoring of daily work and coaching new hires instantly when they encounter trouble.  This makes sure new hires to perform successfully in their new position.
For evaluating the training effectiveness training on computer applications, assign test projects to new hires.  Then, evaluate and retrain as necessary.
Summary
To develop a great business, you need to begin all new-hires with an outstanding training experience and tap their potential. A well planned new hire integration process has been proven to increase productivity and retention. By showing an upfront commitment to them, new hires will be confident in their decision to join your organization, motivated and equipped to produce their best work immediately, and more likely to stay. Invest in them early and they'll stay longer.