This time of year, we hear a lot about Santa "making a list and checking it twice." It seems like a lot of people think this list is about figuring out who's naughty or nice. On the contrary, I choose to believe that Santa, like all of us, when confronted with a big task and a busy schedule, knows the value of making a list to keep himself organized and on track.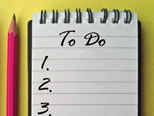 Have you ever woken up on a Saturday morning with no plans and nothing in particular to do? You may have a lot of things that you would like to do, but with no particular hurry or plan, how many of those things did you get done? None, right? On the other hand, think about the day before going on an extended vacation. Perhaps you have a dozen things that must be done in order to be ready. You sit down, make a list, plan out your day and — voila! – everything gets done, like magic. That is the power of a list.
Once your list is written, go over it again and prioritize your list. Decide which events or tasks are most important and give them priority. Then, start with the most important item and do it first. Keep your list in front of you at all times so you are not distracted by things that may seem urgent, but are not that important. Notice, Santa doesn't just make a list, he checks it again and again.
Success Tip: To increase productivity and reduce distractions, take a lesson from Santa and start your day by making a list and checking it twice.