Life doesn't always go as you planned. I recently read the story of a man who deeply desired to be an artist but faced great opposition from his family and friends. As a child, he loved to draw but didn't always have paper, so he would draw on everything he could find, like walls and his brothers' school books. Once, he drew a pig on the side of the farm house with tar. (He got in trouble for that one.) When his aunt bought him a drawing book and drawing table, he decided that he wanted to be an artist when he grew up. But, his father adamantly opposed the idea. "I don't want any boy of mine growing up to be an artist . . . Most artists end up starving to death," he often said.
As a young man, he tried several jobs but could never let go of his dream to be an artist. Finally, he went to work for an advertising company drawing ads. Soon after, he was laid off. He decided to start his own advertising agency but things didn't work out. He lost everything. He started another business doing film; it failed too. He thought cartoon animation was the perfect combination of film and art, so he started another business doing animation. But, when this third business failed, he was literally homeless. He had no money, no place to stay, and few friends. He was afraid to tell his father, because he didn't want him to say, "I told you so."
But, this young man refused to give up, even when everything he touched seemed doomed for failure. His dream to be a successful artist could not be suppressed. So, he borrowed some money and got on a train headed for California where he started a fourth business with his brother. His brother was good at managing money and he was good at creative ideas. Together they became the perfect team. He developed a cartoon character called "Mortimer Mouse" which saw limited success. Later, he decided to do a full length animated movie. A lot of people said it would never work – that people would not sit through an hour long cartoon.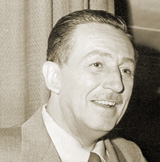 Fortunately, they were wrong. Snow White and the Seven Dwarfs became one of the most popular movies of all time.
This, of course, is the story of Walt Disney. Several years later, he thought of the idea for a Magic Kingdom, a place where both parents and children could experience the magic of imagination. Many said he was crazy, even his brother and business partner said it would cost a fortune, but he raised the money and went forward. Disneyland opened July 18th 1955, and the rest is history.
Success Tip: "Get a good idea and stay with it. Dog it, and stay with it until it's done right!" — Walt Disney