Recently, I had dinner with an old friend who I've known for 28 years. Pat Hill is a world-class artist, illustrator, painter, and commercial designer–with talent up to his eyeballs. He can capture images and emotion with more clarity and passion than anyone I know. He understands more about art history, appreciation, and expression than I've ever dreamed of. In fact, he's currently working on a pet project preserving important art history that would otherwise have been lost forever.
Pat's studio is warm and eclectic, where he is surrounded by art and interesting memorabilia. He lives in the small town of Kaysville with his delightful wife and family, all of whom he adores. He doesn't always make a lot of money on his art or his projects–sometimes things are pretty tight. But he is living his dream. He looks me in the eye and says, "I'm happy! I'm so excited to get up every morning and come to work."
My friends, that is the definition of success.
Pat often has people come to him with ideas on how he can turn his talent into a money-making machine. But, he refuses to "prostitute himself" for the sake of money. On the other hand, the art world presses him to put less importance on his family and to live a "carefree life of artistic expression." Pat won't consider that either. His life compass is pointed unwaveringly toward happiness–not fame, not fortune, or even pleasure, but lasting happiness. That doesn't mean his life is problem-free. He has the same challenges that you and I experience. But, his priorities are in the right place.
He looks at me over our Indian curry and repeats, "Life is good, we're happy."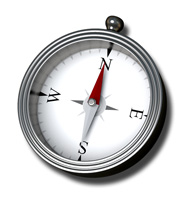 My question for you is: How happy are you? Do you face each day with excitement? Where is your life compass pointing? If you were to achieve your current goals at any cost, would you truly be happy?
Too often I hear people say, "I'll be happy when . . . (you fill in the blank)." I've discovered that happiness never comes in the future until we can learn to be happy in the present. I urge you to give your life compass a check-up. Make sure that what you are doing today, your goals and aspirations, will truly bring lasting happiness to you and your loved ones, lest we become as Stephen R. Covey warns: doggedly climbing the ladder of success, only to realize in the end, to our dismay, that it's leaning against the wrong wall!
Success Tip: Periodically check your life compass, your goals and aspirations, to make sure they are leading you toward your ultimate goal of lasting happiness.