When I was a teenager, I visited the Sears Tower (now known as the Willis tower) in Chicago, Illinois. At that time, it was the tallest building in the world. As we drove into the city, the tower could be seen from miles away, rising like a huge pencil amid the matchsticks of other buildings in the city. I remember standing on the street in front of the building and gazing up, straining to see the top story 1,450 feet (almost five football fields) up. We rode the elevator to the observation level where we stood at the highest point in the state of Illinois and enjoyed a sweeping view of the landscape for miles around.
The wind blows hard at the top of the tower and the building sways as much as 1 foot in either direction. Standing atop that giant building, I wondered what could prevent such a tall structure from simply being blown over. The answer is: the strength of the foundation.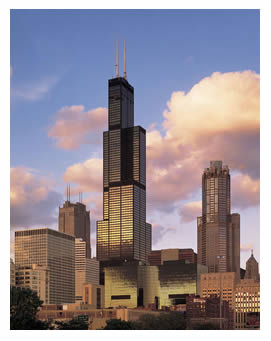 The foundation for the Sears tower is a massive cement structure that is 100 feet deep. In addition, the foundation is surrounded by 200 circular caissons, which are huge cement-filled cylinders bored an additional 100 feet below and set in solid bedrock. These caissons add stability to the building so that it stands firm–no matter what the conditions at the top. This foundation is completely invisible to the thousands who visit the Sears tower every year. But without the foundation, there would be no tower to visit.
In some ways, we are like a skyscraper. We work every day to achieve higher and higher levels of achievement, wealth, recognition, and happiness. At the same time, we are susceptible to conditions that surround us. Storms of adversity, clouds of doubt, economic earthquakes and winds of change beat on our building. If we are to stand strong, we too must have a solid foundation.
Here are three elements that make up a firm foundation for life:
Character – This includes traits like honesty, integrity, fairness, respect for others, trustworthiness, optimism, and kindness. These may seem like old-fashioned values, but in both business and personal pursuits, they will make the difference between toppling over and standing tall in the long run. Those who possess these characteristics will always be prized and promoted over those who don't.
Education – Few things lift and strengthen a career like a solid education. This does not mean that you should give up if you don't have an MBA from Harvard. Whether you had the opportunity for formal education or not, you can learn something new every day through your own reading and study. Take advantage of every opportunity to get more education. Make learning a lifelong goal and you will have more stability in times of difficulty.
Supportive Relationships – Behind every truly successful person is a network of individuals who love and support. Nurture these relationships. Never take them for granted. Take time to make daily deposits into the emotional bank account with your partner, family, and friends. Then, when difficult times come, as they eventually always do, you will have a wide safety net of people who care about you, who will help you and buoy you up.
Like the foundation to the Sears Tower, our foundation is largely invisible to those who look at our accomplishments from afar. Little do they realize, there is no lasting success without a solid life foundation.
Success Tip: As you work every day to achieve your goals, don't forget to take a little time to work on you by building a solid foundation of character, education, and supportive relationships.