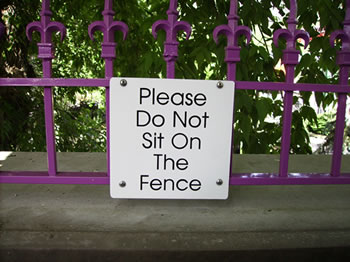 Recently, I saw a sign while I was at an amusement park with my kids that made me think. It said simply, "please do not sit on the fence." I thought, isn't this the biggest problem we have in our business and personal lives? Wouldn't it be great if we all took these instructions to heart? We are a society of fence sitters: we vacillate, we avoid commitment, we procrastinate, and we put off important decisions. This tendency to fence sit is a result of fear to commit, fear of making the wrong decision. Yet, commitment is the key to success in every aspect of our lives.
Last year, a friend of mine became engaged to a successful, handsome man. He gave her a beautiful ring and they were very excited. Weeks passed, however, and she could never get him to discuss a date for the wedding. He would just say, "we'll talk about that later." She figured it was just nervousness and they continued to date and have fun together. More time passed, but he still refused to even discuss it. One night he said, "I love being engaged to you, but I can't guarantee that this engagement will end in marriage." Finally, after 6 months, and no firm commitment, she called off the engagement. He was shocked and surprised because he thought things were going fine.
This is an extreme example, but it unfortunately describes many of us. Too many of us "quit looking for work, the minute we find a job," to quote Zig Ziglar. Too many adopt a "try it and see how it works" attitude to everything from weight loss to applying a business idea to personal relationships. Too many continually change their minds about important life decisions. One woman complained to me that she had started 15 different diets in a 60-day period. Too many of us hope more than we commit. It is a recipe for failure.
Commitment is a combination of enthusiasm and duty. It means that you are willing to make a decision and then jump in with both feet. It means that once you have studied it out in your mind and made a firm decision, you don't even consider the possibility of failure but work like crazy to make your vision a reality. As an employee it means you commit to the company that you will do everything in your power to fulfill your job and give 100% for as long as you are employed there. In family life it is an unwavering allegiance to your spouse and children, an assurance of your loyalty and devotion, no matter what difficulties arise. It means you are willing to sacrifice what you want at the moment for what you want more. As an entrepreneur it means you work with determination and steadfastness to bring about your ideas. It means that when roadblocks or detours arise, you don't give up, you simply reformulate your plan and move ahead.
Please do not sit on the fence! I challenge you to put this sign up on your mirror, keep it in your mind and adopt it as your personal philosophy. Decide, then commit. It will make a huge difference in your life.