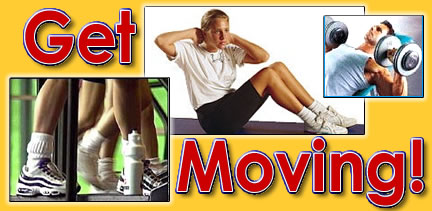 Oprah Winfrey tells of her struggle with weight and her commitment to get on a regular exercise program.We all want to look good and feel good. Research shows that the way we choose to take care of our bodies is one of the most important choices that we make; our bodies directly affect our level of energy, our self esteem–even our attitude. Experts tell us that a sensible regiment of regular exercise and a healthy diet can give us more energy and have a major impact on your well being. We know what to do; the problem is finding the motivation to do it.
Oprah Winfrey tells of a time in her life when no other success could compensate for failing to take control of her body. It was at the Emmy Awards in 1992. The host was about to announce the winner of the "Best Talk Show Host" category. She remembers, "I was on the front row trying to keep my too-fat knees together. I was thinking, please let Phil win so I won't have to waddle my way up to the stage with the nation watching my huge behind. I was 237–the fattest I'd ever been." When her name was announced, Oprah was stunned, "[everyone] was cheering. I wanted to cry. I felt so much like a loser. I was the fattest woman in the room."
This experience ended 16 years of rollercoaster dieting and failed work-out programs for Oprah. She finally made a commitment to get on a regular exercise program and stick to it. She hired a personal trainer to help give her the exercise motivation to keep with it. Oprah says changing her metabolism via daily aerobic exercise changed her life. It changed her metabolism so she could finally lose weight and keep it off, and it gives her more energy and vitality every day.
If 20-30 minutes a day can make you feel and look so much better, why don't more of us choose to do it? If you haven't been exercising regularly, what is stopping you? For years, I told myself that I didn't have the time. But the real reason, of course, was that I didn't really enjoy it. Have you ever noticed that we always seem to be able to make time for the things we really enjoy? Here are five steps to help you get moving and keep moving…
Do it first thing in the morning when you have more energy.
Exercise with a friend. It is easier to get up and get moving if someone is waiting for you. Make it fun!
Keep it simple. You don't need expensive machines or fancy techniques. Consult a fitness book or personal trainer for a few tips. Pick activities that you enjoy.
Listen to upbeat, motivational tapes or CDs while you're exercising. Improve your mind & body together.
Do it! Let's face it, if you haven't been very active, exercise will not be too much fun for the first few weeks. Just keep doing it for 30 days. Pretty soon, you'll feel so good you won't want to give it up.