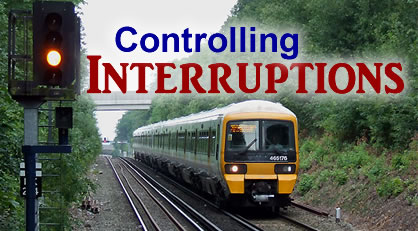 One Spring day, I decided to spend an afternoon working in my backyard garden.  It was chilly, and a little muddy, so I put on some old boots and an old jacket, grabbed my gardening tools and went to work.  After I had been working for a while, I receive a call from a neighbor.
"Sorry to bother you," he said.  "I need you to help me with something when you have a minute.  It will only take 2 minutes.  I promise!  Can you help me?"
I put down my shovel, took off my muddy boots, got in the car, drove to his house, worked for 2 minutes, then chatted for a few minutes before driving home.  I then put back on my muddy boots and jacket, went to the garden, located the shovel (which had been played with by my young son), found where I left off, and was ready to get started.  All together the 2-minute interruption cost me nearly 30 minutes!
Now, I'm not saying we shouldn't help our neighbors.  But this wasn't an emergency and could have been scheduled at a time where it didn't interrupt my productivity.
All interruptions follow the same pattern.  From the point of view of the person interrupting you, they only take a few minutes.  But the productivity cost is much greater.  Here's why.
Have you ever been in a conversation with someone when they were unexpectedly interrupted?  When you try to resume the conversation, he might say something like, "what were we talking about?  I've lost my train of thought."  The person will usually pause for a minute or more, you might even try to prompt him with ideas.  Finally, he will say, "Oh yea" and continue the conversation.
I lost my train of thought.  Why is our conscious thought process referred to as a train?  I don't know, but there is useful imagery here.
Trains can move at amazing speed as they carrying goods from town to town.  But, because of their size and weight, they take considerable time to stop, and then get moving again.  According to the National Safety Council, a freight train moving at 60 mph takes about a mile and a half–nearly 25 football fields–to come to a complete stop with all brakes applied.  That takes about 3 minutes.  Then, it takes about 12 minutes to get back up to speed again.  So, for a train, a one minute stop actually takes 16 minutes. A recent newspaper article complained that it takes only 48 hours for a train to travel from LA to Chicago, but 30 hours to travel through the city.  Why? Because it has to keep starting and stopping!
You are the same.  It takes time to stop, shift gears, do something different, then get mentally and physically back to where were before the interruption, so that you can resume your work.  You'll get far more done by blocking out time to concentrate on a project than if you are constantly stopping and starting again because of interruptions.
Imagine you are sitting at your computer working on an important project.  You get a phone call.  "Can you get me a copy of this report?  It will only take a minute," the person on the line says.  So, you stop what you're doing, figure out where the report is, make a copy and send it off.  Then you have to mentally and physically get back on track. Just like I had to put back on my muddy boots, coat, find my tools, and figure out where I left off, before I could get back to work, you have to mentally get back to where you were before the interruption.  Perhaps by the time you return, your computer is updating or doing a virus scan; or you decide to check your emails before you jump back into your project.  By the time you finally get rolling again, a short interruption will typically cost you 15 or 20 minutes of productivity.
Here's the principle I don't want you to miss:
If you don't value your time, no one else will!
Let's look at a few tips to help you minimize interruptions and maximize your productivity:
Schedule blocks of time to work where you don't accept interruptions.
Schedule time for interruptions.  That's right, if you're going to block out time to work without interruptions, you'll need to schedule some time to deal with the interruptions that would have come during that time. Let people know when you will–and will not–be available.  If you are hit with an unexpected interruption, just say, "sorry I can't right now, call me at 3:00 when I can give you my full attention."
In order to block out uninterrupted time, trade with a co-worker.  Have her answer the phones and deal with all interruptions while you work for a block of time.  Then switch and you intercept her interruptions while she works.
One of the biggest interruptions for small business owners is sales calls.  If someone calls you and starts prattling on, just say, "Excuse me, do you have an appointment to talk to me?"  When they say "no," insist that they make an appointment before calling you.  Most won't.  Don't fall for "it'll just take a minute." Now you know better.
Unless your job requires that you answer every phone call or email immediately, I recommend that you don't.  A ringing phone is so urgent and insistent that we often feel that we have to pick it up.  We don't.  Perhaps you could add a message to your voice mail, something like, "I'm unavailable before noon today and will promptly respond to your message after 1:00 pm" or "I'll give you my full attention between 2 and 4 pm today."  If you will follow through as promised, people will begin to trust that they can leave a message or email and don't need to interrupt you.
Success Tip:  A short interruption actually costs in lost productivity as much as 10 times the amount of time it takes.  Value your time enough to eliminate as many interruptions as you can by scheduling blocks of time to work without interruption and other blocks of time to handle those items that would have interrupted your work.