Judy Howard Biography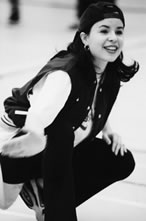 Judy Notte Howard is a teacher, mother and role model who has a passion for inspiring & motivating kids of all ages to lead active, healthy lifestyles. And kids love her! Judy was a classroom and physical education teacher for 12 years. She's traveled North America sharing her knowledge with fitness instructors, teachers & youth of all ages.
Judy is the producer of the Kids Fitness Workouts DVD series, which are great for improving coordination, balance, agility, strength and overall fitness levels.