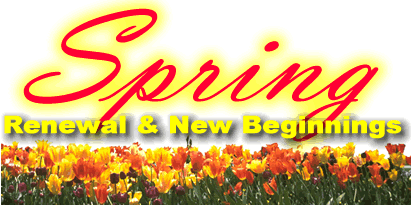 As the dead of winter gives way to the renewed life of spring, nature begins a new season of growth and prosperity. Tiny bulbs, long dormant through the cold dreary months, burst with life and send green shoots that will become the glorious colors of spring flowers. Webster's dictionary refers to spring as "any period of new beginning." Why not follow nature's example and make March 21st a new beginning for you?
Why not decide today, to live life with all of the gusto you are capable of. Why not follow the advice of the great America Philosopher, Ralph Waldo Emerson, who said, "Let enthusiasm radiate in your voice, your actions, your facial expressions, your personality, the words you use, and the thoughts you think!" Why not make the positive changes that you know you should make, and discard bad habits that cripple your future.
If you have experienced disappointments and heartache in your life, just remember this: a tiny bulb can never blossom into the magnificent colors of spring until it has first endured the freezing blast of winter. Plant a bulb in the warm moist earth of spring and it will not — it cannot grow. But, bury it in the frozen earth, make it endure snow and sleet, compel it to suffer the long cold nights of winter, soon the miracle of spring will bring about a transformation of majestic beauty. And so it is with each of us. The challenges of life give birth to renewed hope and growth.
The message of spring is simply this: You too can begin again, the past is over and done with, you can make a fresh start and become a new creature — the one you were meant to be.